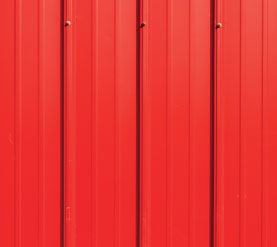 Here's what gives our metal durability to stand up to weather and wear for 40+ years:
1. Metallic Coating
Our high tensile steel sheets are hot-dipped in molten zinc or zinc-aluminum bath, creating a coating that is an effective substrate for subsequent finish layers.
2. Pre-Treatment
A chemical pre-treatment further ensures the primer adheres to the metal substrate.
3. High Performance Primer
Tough primers tie finish paints and metal substrate together, inhibiting corrosion.
4. Durable Top Coat
Our silicone-modified polyester coating is state-of-the-art technology that provides 40+ years of film integrity, and 30 years of minimal fade. It is applied and factory-baked to cure and harden to specs established by the NCCA and ASTM.